Educational Tutorial Services partners with numerous organizations throughout the country to achieve our goals. These relationships are instrumental in our success as well as the success of our students. Following are a few examples of the type of partnerships we actively seek, from non-profit to institutional, corporate and foundations, to name a few.
i-READY, BY CURRICULUM ASSOCIATES
i‑Ready by Curriculum Associates is a comprehensive assessment and instruction program that empowers educators with the resources they need to help all students succeed. By connecting diagnostic data and personalized instruction, i‑Ready reduces complexity, saves educators time, and makes differentiated instruction achievable in every classroom.

Arizona Friends of Foster Children Foundation
Since 1983, the Arizona Friends of Foster Children Foundation (AFFCF) has been promoting the self-esteem and enriching lives of children in foster care in Arizona by funding activities, education and other needs that provide them with quality experiences while they live through very difficult circumstances. The Arizona Friends of Foster Children Foundation is the only organization in the state that provides the "something extras" for children in foster care. Over the past 30 years, they have awarded more than $3,500,000 to more than 23,000 children in foster care in Arizona. Educational Tutorial Services is a preferred vendor with AFFCF.
Foundation for Foster Care
In a system with a very standardized approach, the Foundation for Foster Care offers the personalized support for individual kids in foster care based on what they need to succeed. Formed in 2008 to address the staggering statistics surrounding kids in foster care, the hallmarks of the Foundation give personalized support to kids under three pillars: enrich, educate and empower.

Embrace Families believes all kids deserve to grow up in safe, stable and loving homes. They work to find solutions that put the child's well-being first. As a recognized national leader in child welfare services, EF began by helping Central Florida families overcome the root causes of abuse and neglect through programs that offer case management and other prevention services. When a child can't remain safely in their home, EF supports them through foster care, adoption, mentoring and beyond to ensure that children in bad situations move toward brighter futures.

Texas CASA is the statewide association for 72 local CASA programs. We work to connect each part of the CASA community and empower the local programs to perform at their highest level. At the local level, the programs recruit, train and supervise Court Appointed Special Advocate (CASA) volunteers to advocate for children involved in the child welfare system and improve their well-being. At the state level, Texas CASA provides financial support, training and services to help the local programs operate effectively.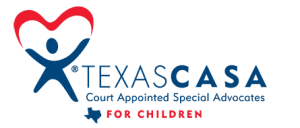 RONALD McDONALD HOUSE CHARITIES
Ronald McDonald House Charities (RMHC) is an American independent nonprofit organization whose stated mission is to create, find, and support programs that directly improve the health and well-being of children. RMHC has a global network of chapters in 64 countries and regions under three core programs: Ronald McDonald House, Ronald McDonald Family Room and Ronald McDonald Care Mobile.